About the Original Mets
"

"I been in this game a hundred years, and I see new ways to lose I never knew existed before."" - Casey Stengel, manager of the 1962 New York Mets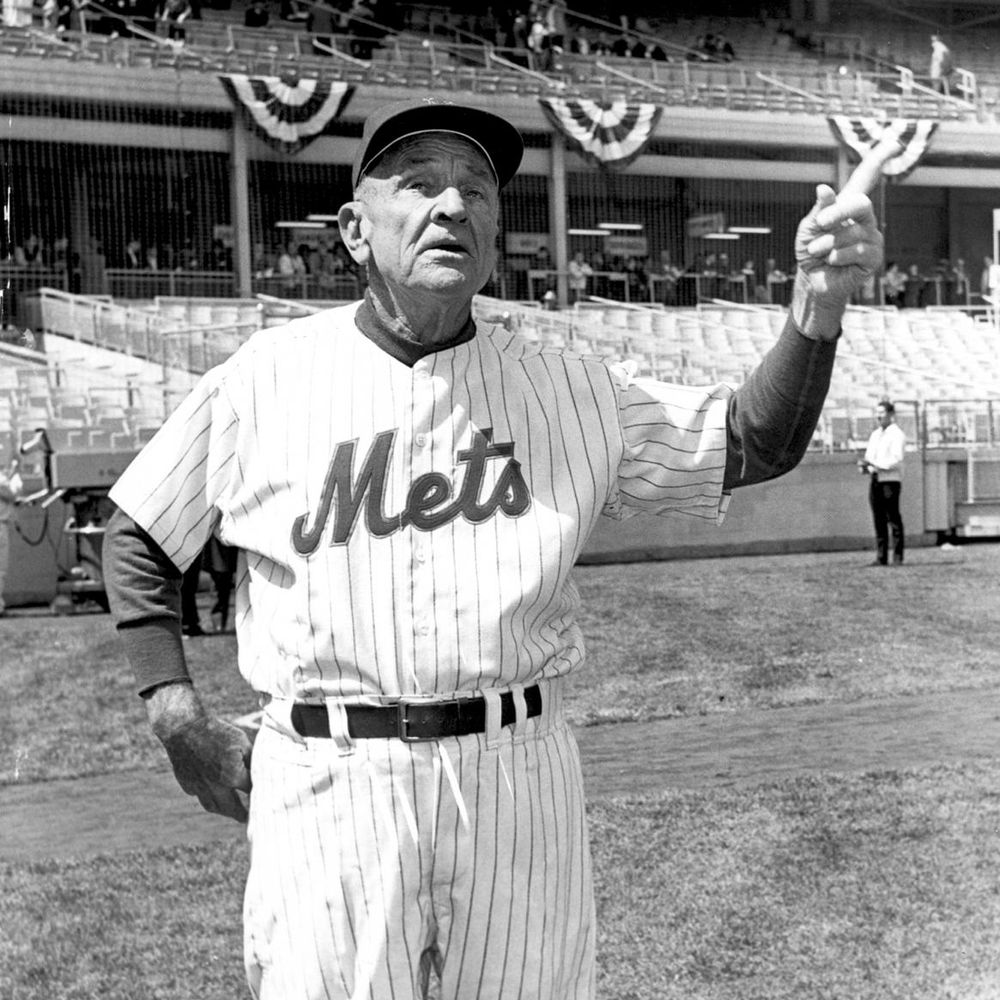 Can't Anybody Play This Here Game?
Many longtime baseball fans know that the debut edition of the New York Mets won only forty games, lost 120 and finished 60 1/2 games out of first place. The team was created through substantial effort after the Brooklyn Dodgers and New York Giants fled the city in 1957, leaving New York without a National League baseball team for the first time in 75 years.
After a committee led by attorney William A. Shea frightened baseball by threatening to create a third major league to compete with the existing two, the baseball establishment agreed to expand the present major leagues, including a franchise in New York to begin play in 1962. However, the process by which the two NL teams, the Mets and Houston Colt .45s (later the Astros) were to be stocked with players was rigged from the start, ensuring that the two clubs would be staffed with unproven rookies and over-the-hill veterans no one else wanted.
Luckily, though, the Mets were able to secure the services of Casey Stengel, the most recognizable manager in the game. Stengel had been fired by the New York Yankees despite winning ten pennants and seven World Series in his dozen years as Yankee skipper. Stengel, who turned 72 during his first season with the Mets, quickly understood that his role would be to serve as the focal point for the fans and the writers, keeping everyone interested and amused even as his team continued to lose games in unprecedented fashion. In this regard, he was a huge success.
The Original Mets, though, were anything but a success. In setting a modern-day record for losses, they were eliminated from the pennant race on August 7. After nine games, all losses, they were already 9 1/2 games out of first, and they continued to lose ground in the standings after the regular season ended. Their staff ERA was 5.04, and the team committed 210 errors. During the course of the year, they traded a player for himself, they lost all fifteen games played on Thursdays and they hosted an Old Timers Day in their first season. They had two pitchers with the same first and last names and roomed them together on the road. 
But all that being said, the Original Mets remain one of the most beloved teams of any era. Sixty years after their debut, longtime fans still lovingly recall memories of Hot Rod Kanehl, Choo Choo Coleman, and, above all, Marvelous Marv Throneberry. If you want to know what has made the Original Mets so lovably endearing, check out A Year in Mudville: Revised Edition -- The Full Story of Casey Stengel and the Original Mets.